Decorating our homes is an exciting task. Sometimes it can be stressful, but most of them will be pretty fun and especially pleasant and satisfying once we see it completed. To choose the furniture for the living room, we must consider various factors, such as the room's space, the style, the size of the furniture, and of course, its quality, and without a doubt, a material that is resistant, durable. And beautiful is the wood. If you want to know how to choose the perfect wooden furniture for your living room, we will leave some ideas that will serve as inspiration.
A Complete Piece of Furniture for The Living Room
When it comes to decorating and furnishing small rooms, we must be very cautious when choosing the furniture, we want to place because they can take up a lot of space or be very little useful. The good idea is to get a piece of furniture that meets everything you need, that is, like this one we see in the example image, it serves as a support for the TV. Still, at the same time, it works as a closet and shelf, with plenty of storage space. In this, you can store everything from books to accessories and objects that you have to decorate the room. Although it may seem that this furniture takes up a lot of space, it can be adapted to the measurements of one of your room walls, and with it, you will not have to include anything else.
A Dining Set That Goes with Everything
A dining table is always essential; generally, when the house is small, the living room and dining room come to life in the same space. Therefore, the table should have no more than four seats so that there is room for the rest of the furniture and that it is not all crammed. As this article's subject is wooden furniture, this dining room could not be made of another material. This is a modern design made with solid wood, making it a much more resistant and durable piece of furniture. It will be one of the best purchases because it will remain intact over the years. Another advantage of wood is that it actually combines with absolutely everything. A wooden dining room can adapt to the style you want. For example, you can add textures, colors, and patterns that make it look minimalist, colorful, modern, or traditional. The good thing is that it will never go out of style because, with a few minor changes and accessories, it can look completely different.
The TV Cabinet
Having the television in the living room is the best option to enjoy movie nights and share some soccer time with friends, among many other alternatives. You can place this electronic device in a cabinet in front of the sofa in your living room. For that, you have many options, like this one that we see in the image, and it is about making a piece of furniture to embed this area. It does not necessarily have to be resting on something; you can also install it on the wall and place the furniture around it to add its accessories, such as cable television equipment, the video game console, among others. You can also add TV accessories and other accessories to decorate or items that you have nowhere to store; you can also copy this idea and have a minibar in a corner.
The Most Comfortable Sofas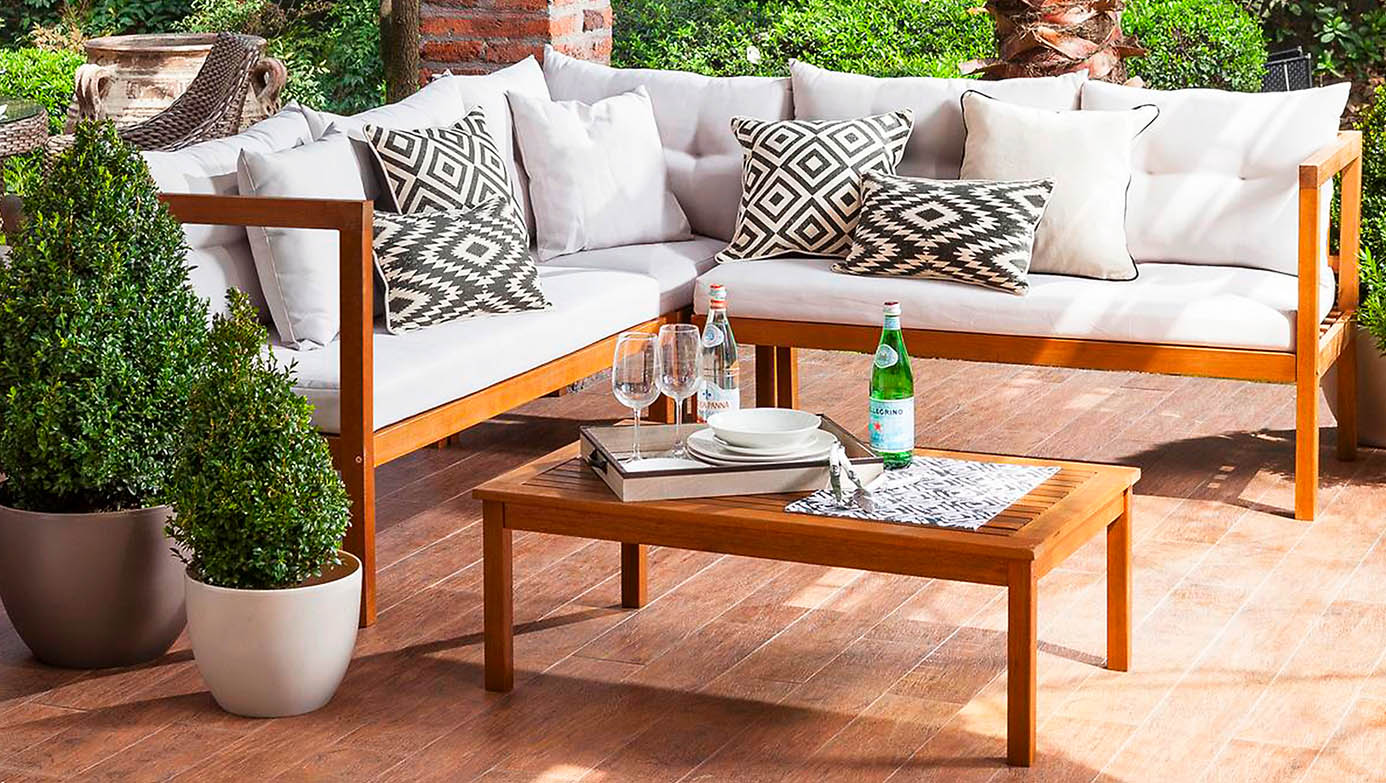 We cannot stop talking about furniture for the living room without mentioning one of the most important, the sofas. There are millions of different designs and models of wooden sofas; you can choose between each one to suit your space style and size. Wooden furniture can last and remain intact for years. Among its many advantages is that if necessary, you can touch up the paint, change the tonality, the cushions' pattern, and you will have completely new sofas. For this example, we see a set of furniture that works for both the house's interior and exterior. They can adapt to the design and space; in a small room, it may be very excessive to have three sofas, but you could just place one of three seats and accompany it with two individual armchairs, chairs, or puff to add contrast.
A Custom Library
To finish with the perfect wooden furniture for the living room, we will close with a beautiful personalized library; that is, you can make it to your liking and measure the space you have available. You can get some open shelf accounts like these that we can see in the example and place in them all the books you want and all the accessories you need. The advantage of these open wooden shelves is that you can make them yourself because their structure is simple and few materials are required.
Are you looking for custom-designed furniture made with elegant raw wood? Contact WOOLSTORE FURNITURE in Melbourne. They use superior Australian timber to design and create your furniture.