Can I really trust Feng Shui?
Is it worth investing my hard-earned money in it?
Will I become richer?
Will my house look more appealing?
Let me put it this way: Feng Shui is not a religious belief but rather an ancient Chinese philosophy that aims at creating a harmonious atmosphere. It's all about implementing principles and practices to bring out the positive energy in your house. It's got absolutely nothing to do with fortuitous happenings.
While it's true I cannot promise you'll have a perfect homely space, but embracing this deep philosophy might end up connecting your spaces, creating your own little magical world.
To get back to the original subject, here's how you can include Feng Shui when choosing your home color paints.
Understand the Importance of Color in Feng Shui
While reading this article, you will definitely come to a point – beginning or end – where you'll wonder about the function of color in this ancient philosophy.
See, in Feng Shui, there are several elements that work together to create an auspicious environment, bringing together all the divine life forces of nature and a core element is colors.
For us, color represents a mere visual element, enhancing our perception of the world.
But, if you take it from this traditional Chinese perspective, the use of colors brings us closer to the magical power of nature – which can be both good and bad connections.
That's why Feng Shui is here – to get rid of any "negative" element and create a harmonious balance between both the yin and yang energy.
Consider Who Will Use a Room the Most
"Always think about who will use the room most often," said by a devout follower of Feng Shui.
Ok, let's take a spin at this: Suppose you've got to paint the room of a nursery. Most holistic Feng Shui experts present their opposition against the use of the color red in such a place.
Which leads to this question: What's the problem with red?
Feng Shui considers red as a source of passionate emotions and as a magnet of property and wealth. But, when it comes to a peaceful and innocent atmosphere like a nursery, red is strictly prohibited.
Going for "Fire Colors" in Lively Rooms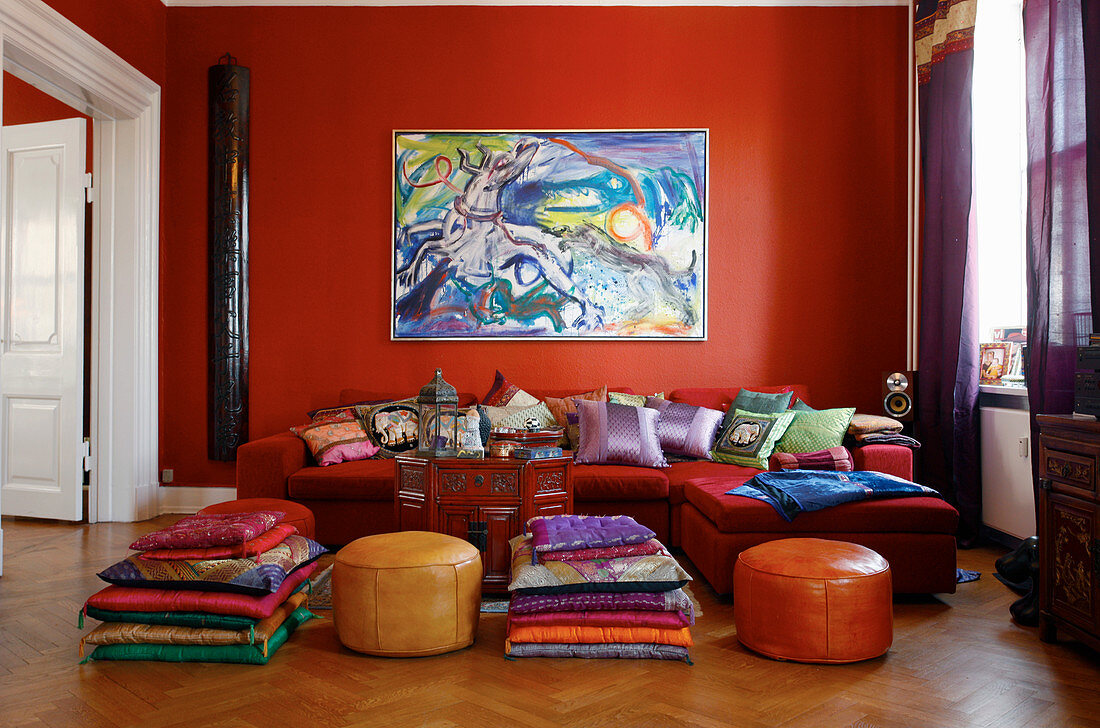 You must have heard of the five key elements of nature in Feng Shui – wood, fire, earth, metal and water.
We will play with fire.
In the realm of divine energies, the element of fire is a crucial one, representing the positive energy from the sun and bringing along with it successful achievements, joyful events and large and bright smiles.
Just like how life wouldn't have existed on earth without the energy of the sun, similarly, it's the strong desire, passion and powerful emotions that warm your heart and keep the flame burning.
The secrets of this energy are found in the colors red, orange and yellow and the sensual light and warmth of this energy can be brought into your home if these colors are applied to the lively spaces of your home.
Personal Side of the story: There's always a lot of movement in my living room. So, decorating it in vivid red was one of my best choices. Now, I find it more restful and serene.
Quiet Rooms Need Calming Hues
While dynamic and bold colors should go with lively spaces, bedrooms need the smoothing magic of neutrals.
Your first bet should be placed on blue, known as the color of serenity. Its sedative effect has the ability to create a relaxing and comfortable atmosphere, sometimes evoking a feel of the seaside.
And, trust me, even color psychology sides with this Feng Shui principle.
So, what do you think about applying the philosophy of Feng Shui to your house décor?