From Nick and Ambar's rented house with breathtaking views in Salaam Namaste to Yuvraj Vikram Singh Rathore's grand estate in Khoobsurat, the interior spaces displayed in Bollywood movies have never failed to amaze us.
If you are a Bollywood fan and are trying to look for some new home décor ideas, get ready for a whole house redecoration with these great ideas inspired by Indian cinema.
Consider Popular Bollywood Colors
What colors come to your mind when I say Bollywood and all the movie productions from India's entertainment industry? I don't know for you, but I tend to think of a sparkling and vibrant rainbow. And this is exactly what Bollywood is.
If you want to bring the Bollywood vibe to your home, one of the first things that you should do is to brighten up the interior spaces with colors. And, some of the popular colors that you can apply to your home décor are jewel tones, such as ruby, amethyst, sapphire, emerald and gold (of course, you can also opt for any other bright and fun color).
A Glitzy Entrance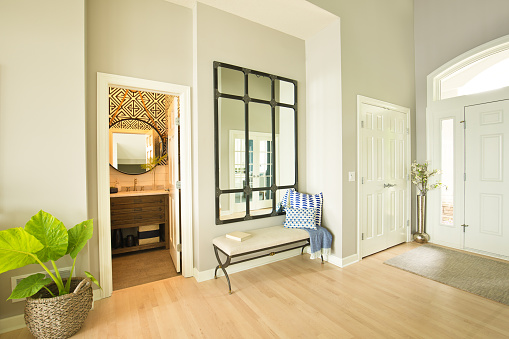 If you want to ace that lush Bollywood-themed décor, you need that enchanting entrance that will immediately impress your guests and make them feel as if they are in some 90s Indian movie. For instance, you can turn your simple and plain entrance into a dreamy Bollywood one by adding a lot of clapperboards, a red carpet (if you want to), some bulbs and extravagant lighting.
Bollywood Centrepieces
To achieve that Indian-movie look, every element don't need to represent a part of Bollywood, but your love for Indian cinema should be present. I recommend you to move over those typical mason jars and floral centerpieces (argh..did I mention how much I hate those usual floral decorations?) and instead chose items that can help to bring that Bollywood vibe in your house.
Here are some examples:
Adding a dancing-couple music box will remind you of both the dreamy girl and the Baadshah of Bollywood.
Adding any W-shaped decorative item will remind you of the crazy and hilarious search for a hidden treasure by four buddies. Yes, I am talking about the 2007 Dhamaal movie.
Drapes and Curtains
Have you ever watched Khoobsurat, the 2014 Indian romantic comedy movie where a quirky daughter starts to work for a royal family and tries to melt the heart of the younger prince? Well, if not that, you must have at least watched the famous Devdas (that is, if you are a pure blood Bollywood movie fan). And, from these movies, you will get great ideas for your drapes and curtains (whether you like simple ones or huge sequins work curtains).
Adding Some Unusual and Small Décor
You don't always need huge and luxurious pieces of decorations to create a Bollywood-style home décor. For example, from the Indian movie, Wake Up Sid, you can see how a small messy space was turned into a simple but clean and beautiful one with just a few décor ideas such as hanging birds, photographs, wall decals and some lightings.
Choose Bold and Intricate Prints and Patterns
Bold and intricate patterns and prints are widely used in Bollywood to embellish clothing. Now, imagine if you implement them in your house. And, whether you use traditional Indian prints or contemporary ones, they would help to make a strong statement and create an eye-catching space.
Go for the Classy and Elegant
If you are a huge fan of Sanjay Leela Bhansali's movies, you will love this concept.
Bollywood-inspired home decors do not always need to be quirky and stylish, but they can also be classic and elegant. And this look can be achieved with a "Dharm Garam" décor, carved furniture, brass and silver decorative pieces, lamps and candlesticks, solid wood tables and even an old Maharani-Maharaja painting.
As per Anamika Tomar, an interior designer in Mumbai, India, "In a spacious living room that has high ceilings, one can create a Mughal-like décor, with tinted lanterns hung in clusters in a corner. You can also spruce up your home, by picking up some digitally printed cushions (that are printed with filmy dialogues or some Bollywood iconography)."
Will you use these tips? Please share your comments!