Small bedrooms are often challenging to decorate. However, today we have come up with a list of items to help you answer the timeless question: how to make a small bedroom look bigger?
#1. Paint Your Walls Light Colors
When it comes to small bedrooms, light colors are the best options as they are light reflectors and can make the room seem brighter and roomier. Besides, light colors can make it seem as if the walls are farther apart, which can make the room look bigger.
You can either choose light and lively colors like soft creams or simply opt for an all-white color palette that can create a fresh atmosphere where small spaces feel larger.
However, always remember to keep the small bedroom away from dark colors as they can absorb light and make a room feel more constricting.
#2. Paint the Ceilings Darker or with a Bold Pattern
This is another interesting tip as it essentially tricking the eye to look upward. When you are making use of dark or bold colors, they will automatically draw the eye upwards and give the illusion of height even if there are no high ceilings.
#3. Use and Maximize Vertical Space
Another way to transform a small bedroom is to think vertical and to make the eye travel upward. When you don't have much floor space, you can efficiently use the walls right up to the ceiling to make the room appear bigger.
Ways to maximize vertical space are:
Adding built-in shelves that extend from floor to ceiling can add not only more visual space, but also storage and interest to a room.
A tall armoire or bookshelf can also be considered to break the monotony of small space.
The space can also be filled with tall palm or fig trees.
#4. Mirrors Create the Perfect Illusion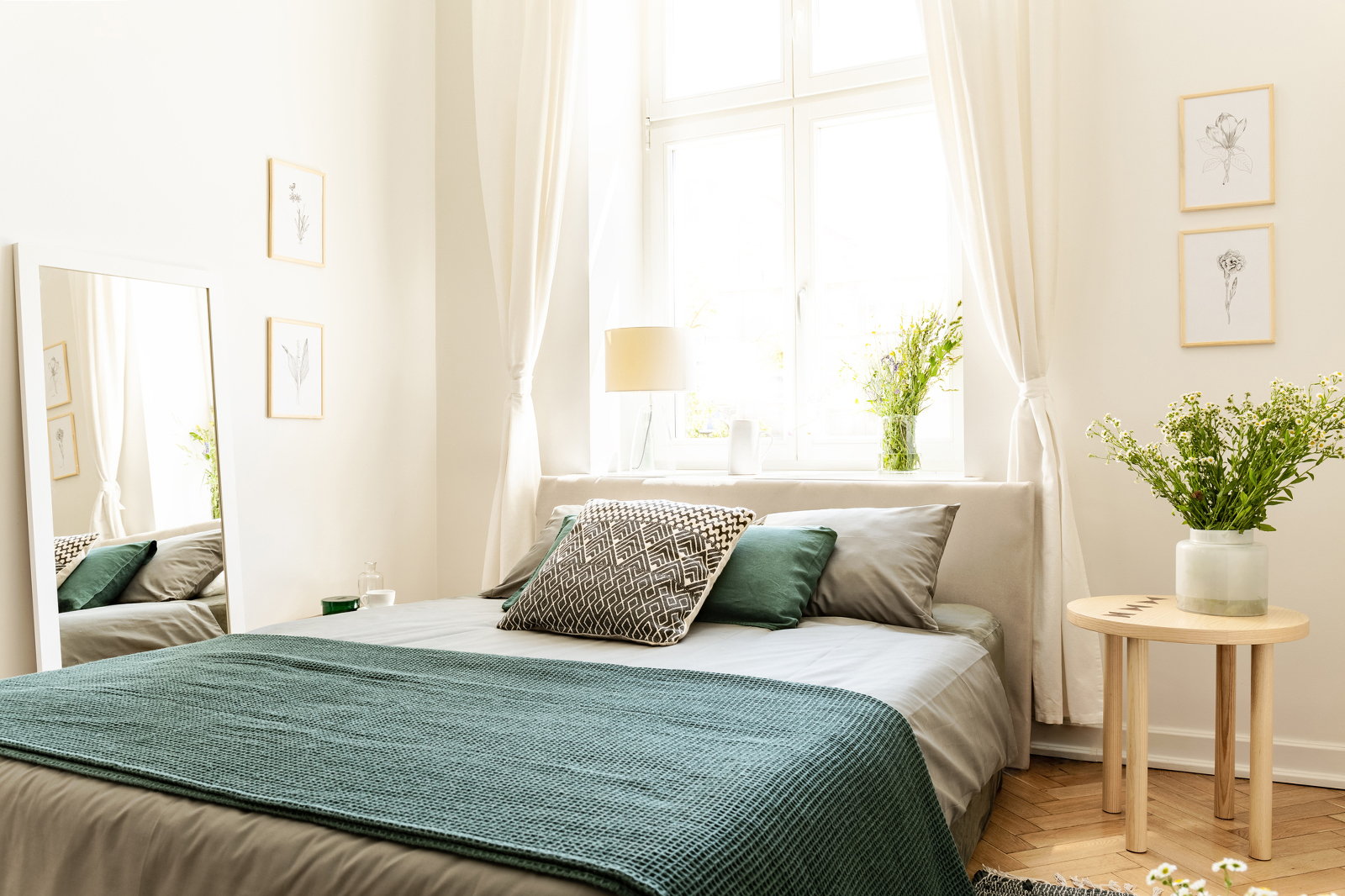 It is said that every bedroom requires at least one full-length mirror. However, a small bedroom can use more than one.
Mirrors can not only reflect light but can also create a certain depth or height that can fool the eye into thinking a room is bigger than it really is.
You can expand your small bedroom with the following options:
Mirrored closet doors
Small and fancy framed mirrors on walls
Ornate mirror over the dresser
Starburst mirror over the bed
Mirrored or chrome-finished furniture, lamps and décor
#5. Use High Drapes
Did you know that high drapes can create a horizontal effect that can draw the eyes upwards?
Now, true that many people do not have the floor to ceiling windows. However, you can still create an illusion of this by raising your drapes above your window frame and letting them hang long (but make sure they don't touch the floor).
#6. Use Light-Colored or Simple Bed Sheet or Quilt
Bed sheets are considered as key ingredients in the decoration of a bedroom. If you are choosing sheets for a small bedroom, we recommend you to stay away from loud and busy patterns.
It is better to coordinate the colors and shapes of your drapes to match the color flow of the bedroom.
Besides, you can choose light and bright colored sheets to make the room feel larger.
And why don't you get creative and go for personalized photo quilts or woven photo blankets?
#7. Bold Wall Art
Instead of bombarding the room with photos, it is recommended to choose only one bold piece of art. It will become the focal point of the room, adding more structure and depth.
Let me give you one tip: placing a luxurious piece of art above the bed is a perfect method to draw the eyes to one specific point in the room.
#8. Smaller Lamps
Using various small lamps can draw the eyes to the room and elevate the sense of space.
#9. Avoid Excessive Furniture
Honestly, you don't always need two bedside tables, especially in a tiny bedroom, isn't it?
Therefore, if you want to make your room seem bigger, try to use less furniture.
If you are indeed the owner of a small bedroom and have followed our guidelines, then tell us in the comment section below whether our tips were helpful or not.