When we design our new interior or want to give our current interior a new look, we don't always have the best ideas right away, and, unfortunately, it's easy to make a mistake. In order not to ruin your interior, here are 7 things you should try to avoid:
1) Always Following the Latest Trend
Not a season goes by without a new decorating trend being announced. Not only do we lack the time and/or money to adapt our interiors, but if you always want to follow the trends, you also run the risk of losing your own style. Maybe the Scandinavian style, the geek look, and the Memphis style look very nice, but do they suit you? It is best to think about your interior plans a few weeks or months before you start. If the enthusiasm continues after all that thinking, then you can get started.
2) Too Many Motifs
Stripes here, circles there, and a few more diamonds. If you use too many motifs, you will end up with an interior that will make your head spin. One motif is enough. Besides, painting motifs is not easy.
3) Using the same color everywhere
Sometimes we are so afraid of making a wrong choice to paint the whole room, or even all the rooms, the same color. Or worse: even the curtains, the seat, the cushions, and the carpet have the same color. Avoid this if you do not want to end up with a dull and sad interior!
For instance, a real no-no is a 100% white interior. The white of the walls will not be the same as the white of the decor. In the end, you will find yourself with a mix of whites that will be boring. The only areas where you can limit to one color are small rooms, such as student rooms. Using a single color, in this case, will make the room appear larger. Then you need to apply some touch of color through decorative elements.
4) Avoiding Dark or Bright Colors
When it comes to choosing colors for a room, we always start to hesitate and delay. We are afraid to do something daring, won't we quickly get tired of that particular color? The result is that we always go for white, gray, and beige tones. Dark colors, and mostly black, are avoided. And that is a mistake. After all, dark colors have many advantages. The same goes for bright and vibrant colors. Dare with red, yellow, or purple. And if you want to be sure, buy samples first and try some colors on your walls.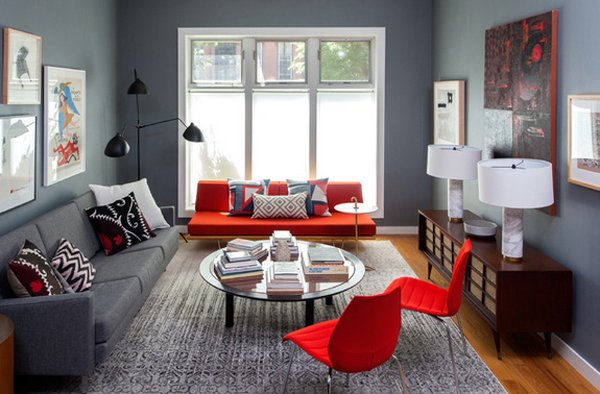 5) Overloaded Walls
After painting, we often tend to clutter the walls with photo frames, pictures, etc. Again, it is better to work in moderation. Let some wall surfaces breathe. Trop is too much. And to place photo frames correctly, follow these tips here!
6) Too Little Lighting
Good lighting is essential for the ambiance of the home. Be it for working at home or for receiving friends; any situation demands the appropriate lighting. Moreover, lighting also dramatically changes the colors of the house and the interior. It can make a room seem larger or smaller. For the most spacious interior, it is important to choose light colors.
7) Storage in Plain Sight
This mistake is made (too) often. People think that it is tidy when they put something in an open basket or on a shelf. If you then look at the storage space, it is still too busy. So, try to use as many boxes, baskets, or drawers that can be closed as possible as storage space. Otherwise, make sure you have a cabinet that you can close tightly or limit your "open" storage space to a maximum of one item in the (open) cabinet.
Do you have any other tips? Share it with us in the comments below!