Have you ever looked over your home and wondered what was missing? You can't quite put your finger on it, everything looks good, but the room lacks just that panache, that illusory charisma, the elan and zing if you will. In other words, your home can look as impeccable as a sheet of white paper and still lack the warmth and vitality of a real home.
As with all home furnishings, it is the final details that bring your space to life. The color of the walls, floors and fixtures are only part of the puzzle, to get the full picture you need to add a few personal touches to tie it all together.
This is where flowers take the upper hand. Nothing can add as much glamour, color, style and artistry to a room as flowers. Whether they are real or impressive artificial flowers doesn't matter. What does matter is the quality of the flowers. Cheap artificial or silk flowers will always look cheap, no matter what setting or container you use. The same goes for fresh flowers: you can buy them cheap, but they won't last long and will look tired from day one. Quality flowers reward with a quality performance.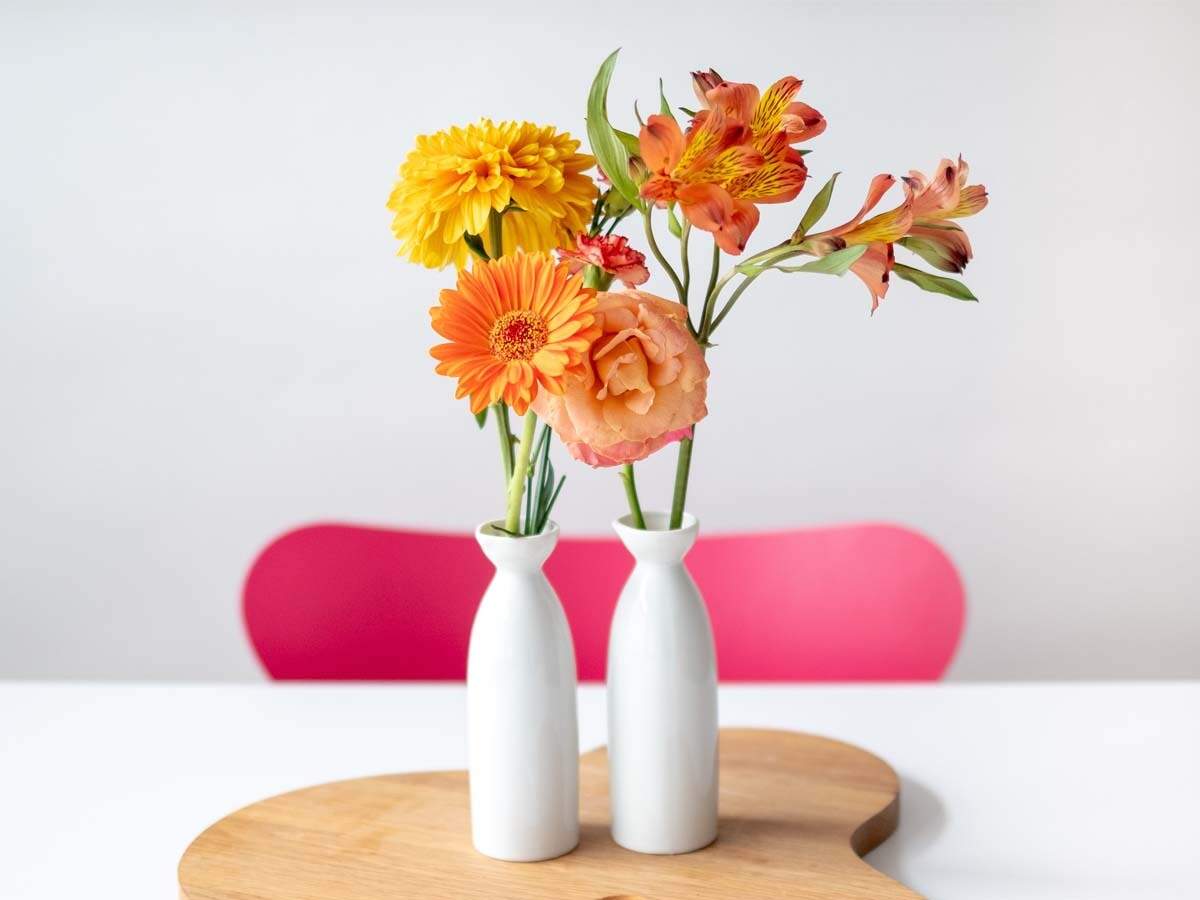 A lot depends on the style of your home and your own taste about what you want to put in it and how much.
Do you like a mass of bright colors, or do you prefer clean, uncluttered lines? Look at the colors in the room to determine what you want to use. Keep in mind that you can work in the same tonal range as the colors in the room, i.e. complementary or monochromatic for a relaxed elegant look, or you can go for contrasting colors for a dramatic impact. If you are decorating a home for sale, it is best to keep a neutral scheme, as buyers like it better than an eclectic mix of patterns and colors.
I prefer all the flower colors in a room to be the same colors; that is – if you use white and green flowers, all the flower arrangements should be in those shades. They don't have to be the same flowers, just the same shades. If you have orange and blue flowers in one corner and pink and white in another, it looks confusing and messy. You'll get a much better look and a much greater impact by keeping the same palette for each room.
Alternate the style of the arrangements in the room to attract attention. Don't just put three vases full of white lilies. Mix it up a bit by making a low long table arrangement with a floral oasis in a tray. Then, on a side table, place an impressive vase full of flowers that stand up proudly like models in a photo shoot. You can also place a few mini arrangements in other places, such as a glass fishbowl filled with rocks and water with decorative grass wound around the inside of the glass and three or five miniature roses placed low in the center of the bowl. Even a single flower by itself on a desk is beautiful.
Get a few books on flower arranging from the library – you'll get lots of ideas for decorating your home. To get even more great ideas, go to your favorite florist and see what's on display. Buy the creation you like, take it home and enjoy it, and then find out how they made it by taking it apart as its beauty slowly disappears. Then you can clean up the container and make it again yourself!
Silk flowers or artificial flowers offer another alternative that lasts and is inexpensive. Any arrangement you like in fresh flowers can be recreated in artificial flowers, so keep those florist and library ideas handy. Entranceways are ideal for silk flowers; they are permanent and therefore cost-effective – they invite people into your home and give a sense of elegance to everyone who enters.
The beauty of artificial flowers is that you can start modestly if your budget allows, and buy a few more stems each week to add to the vase until you have that impressive collection. Instead of incurring the huge expense all at once, you can spread the cost over several weeks. One way to brighten up a skimpy vase at first is to add fresh greenery from your garden to fill it up. Of course, you'll need to add water to the vase to do this, but that's easy to clean up once you have a full vase of flowers.
Flowers paired with beautiful mirrors throughout the home add life, style and inspiration. Putting flowers near a mirror is a bonus because the reflection in the mirror increases the volume of the arrangement, while the mirror adds sparkle and a sense of spaciousness.
With fresh flowers, it is wise to take good care of them. Fresh flowers need clean sterile pots with fresh water. Strip the greenery from the part of the flower stem that will be in the water, otherwise the greenery will rot and the smell is not something you want in your home.
Do not place your flower arrangements in a room that is directly hot – next to a fire or a sunny window is not a good idea, as they will wilt faster than ice on a hot plate. Every two to three days, change the water, cut the stems and pluck off the wilted leaves. In warmer climates, misting water throughout the day can help. Use the special bag of flower food that florists use to add to the water, which will extend the life of the arrangement.
If you are blessed with a beautiful garden, use your greenery to compliment the beauty of the flowers, the greenery also helps to hold the flowers in place in an arrangement.
Flowers are food for the soul. They add beauty to our lives, and soften the mood of a room. Some flowers have a wonderful fragrance that no artificial room freshener can match. Using flowers in a home adds a personal touch and a sense of warmth.
So if something seems a little odd, a little dull and maybe even on the border of boring, try adding flowers – it works every time.