The patio is a Spanish word meaning courtyard or backyard. A deck differs from a yard in that walls do not surround it. The idea of the patio has evolved. In today's world, the patio resembles a terrace, but it can be attached to or detached from the house, unlike a deck. Patios can be of any shape and size, depending on the design. A patio is built on a concrete slab or a foundation of sand and pebbles. It can be constructed of various materials such as concrete, gravel, pavers, stone, and brick. Being at ground level or slightly above ground level, most patios do not require railings.
Having a patio in your home's backyard is a must because it increases the value of the landscape.
When guests visit your home, the first thing they notice is the patio or porch, the open and welcoming nature of a deck to guests is a good indication of how the homeowner receives or welcomes their guests. The following are easy and inexpensive ways to spruce up your patio.
Decide on the color scheme.
Before you start any patio project, make sure to decide on your best and inspiring color scheme that will fit the project. You can select a color based on the item you already own, or you can buy a color scheme based on your choice for the patio. It is more worthwhile to select your color ahead of time before making a plan for the deck. If you are not sure which color scheme to choose, you can take your inspiration from items such as planters, rugs, patio furniture, or you can ask a friend to choose for you.
Decide on the seating area
When designing a new look for your patio, you should consider one area of concern is the seating area. The seating area should be well planned, and you should make sure that you introduce some unique and exciting things for visitors or guests to sit on and relax. They do not have to be expensive and extravagant things. Things like benches, stools, old kitchen chairs, crates, barrels, rocking chairs, and porch swing. Add some tables, too, whether it's a coffee table, patio table, or a reused stool. A table where your guests can sit and enjoy a drink or coffee is a welcome gesture.
Consider flooring
Flooring is another great way to spruce up your patio. It helps to keep the floor of the deck neat and clean. It makes a big difference if you decide to add an area rug to give it some extra color and texture, so it doesn't look too ordinary. You can also choose to use outdoor carpet on the concrete floors to add color and texture to the patio floor.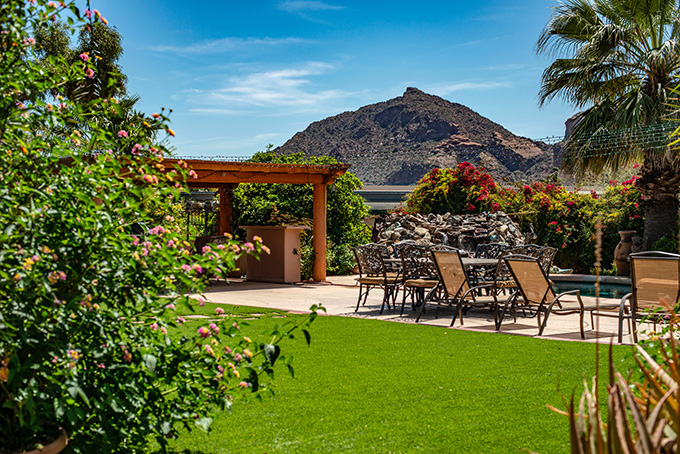 Add some plant life
Once you're done with the seating, color scheme, and flooring, start adding plants and other natural essentials. Nature and plant life make a patio inviting and welcoming. Use your planters to add plants to a patio. You can buy planters that match the patio's color scheme if you don't already have planters in matching colors that you can reuse. Next, select plants that can add something unique and exceptional to the overall look of the patio.
Adding waterworks and other special touches.
Adding even a simple fountain to your patio can add even more beauty to your patio. It makes the whole environment serene, peaceful; it can be relaxing listening to the flowing water's sound. Some items like Throw pillows, candles, garden decor, and door wreath can be ideal for decorating your patio.
Reusing items are the easiest way to spruce up your patio. Some people may be lucky enough to own everything they need for their patio, but others have to buy most of the items they need. Many stores sell patio and outdoor items where you can buy your items.