Speaking of colors for the living rooms, there's an endless amount of possibilities available. Deciding which will be the best can be a daunting task. Unfortunately, colors alone often don't show us the full potential a room can have, so we tend to throw them away quickly. However, we found it appropriate to provide you with specific options, with graphic examples of how impressive a combination can be.
There are stunning shades that we can use to decorate the living room, such as many shades of elegant grey, beige and earthy browns, viridian and pistachio green, some deep shades of blue, such as oxford, and many others. In addition to these colors, warm shades such as mustard yellow, burgundy, and old rose can also help bring life to a room.

1) Green
Bringing colors from nature is a way to keep a living room cheerful and always modern. You should focus on the main color and then start combining elements of other colors, to maintain harmony in the room without overloading it.
-Pistache Green
Many pistachio colors are also on-trend, although the style is to abandon the saturated shades seen last year and use softer and more delicate shades of green. This color can give a room an eclectic elegance when combined with a luminous pistachio green on the wall, with green plants, and delicate shades of grey and beige.
-Green and Pink
If you want to give your living room cheerful colors, you can use teal, white, pink, and beige, accompanied by brown details (such as a piece of furniture), which provide an earth wire, to so many intense sensations that the eye will perceive in this room.

2) Blue
–Oxford Blue
Decorating our house can often be a difficult task. We have to look for the right colors because the decoration of our home is also a way of expressing ourselves. Adding accents of intense colors such as oxford blue can be an excellent option.
-Cerulean blue
Combining a color as subdued and elegant as dark grey with a cerulean blue is a modern and successful way to add color to a room. It is a way to add color without running much risk. Cerulean can also be successfully combined with white and beige.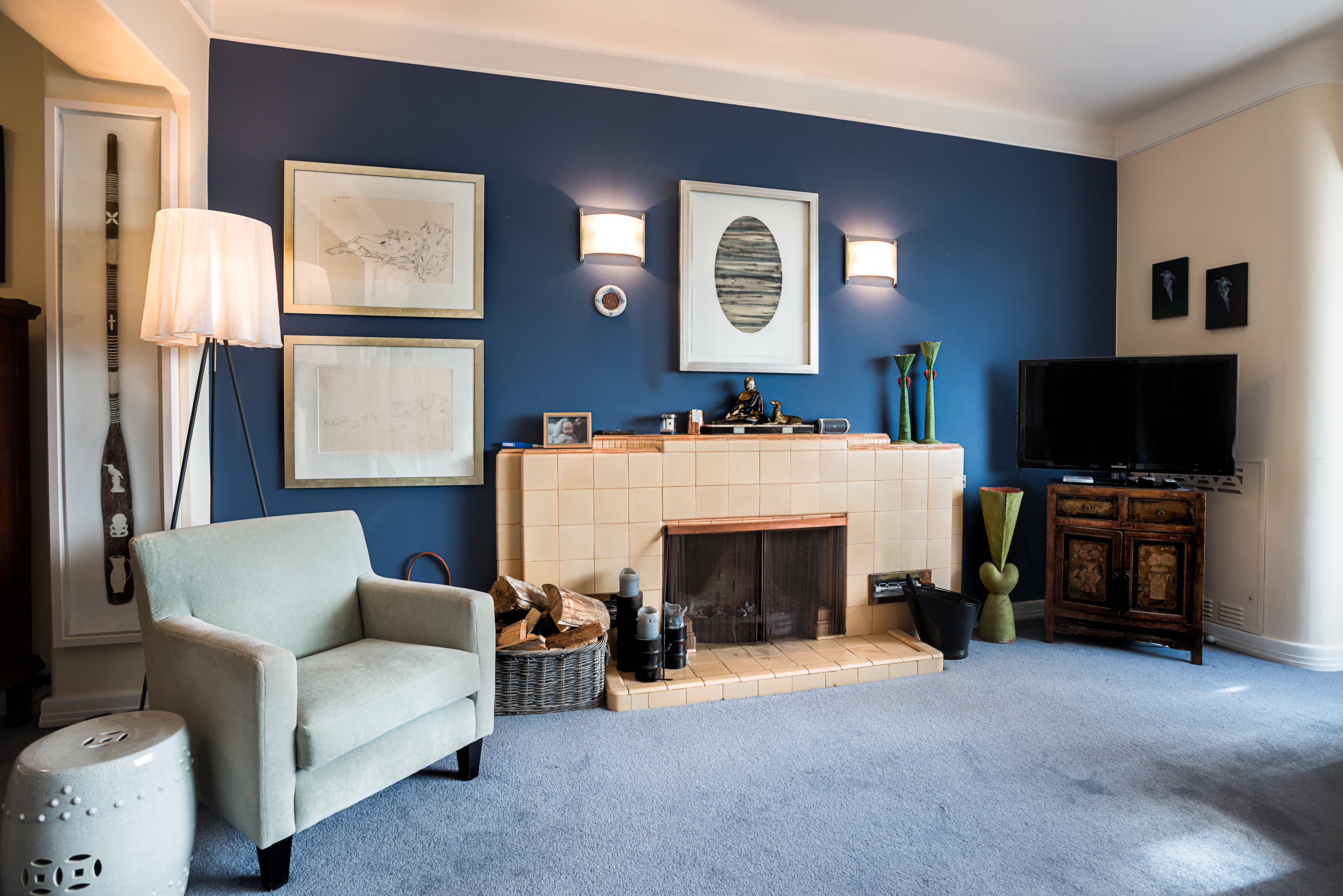 3) Pink
Choosing a soft color such as old pink on the wall and using other neutral shades on the sofa and cushions is another sure way to achieve a beautiful and low-risk environment, as there is no way this can be a disaster!
We can use contrasting colors to achieve an interesting room. For instance, a wall in teal blue contrasted with accessories in an opposite color such as old pink will look gorgeous! The result will be a cheerful room, with different colors without lapsing into excesses.

4) Mustard
The way to add color to a room doesn't just have to be on the walls. You can keep the room monochromatic and add color by mixing fabrics, for instance in yellow shades.

5) Red
-Scarlet
The combination of red and white is a sure way to have color in a room. To create harmony in the room, you have to experiment with shapes, textures, and patterns, also adding a color that manages to turn off the room.

6) White
-White and Grey
Neutral colors wipe away compliments because they create a cozy, warm atmosphere, but at the same time intense and full of personality. It invites you to observe in more detail, to enjoy the tones, and even to value works of art, which seem to lack potential in themselves.
-White and beige
If you want to walk the safe path, paint the living room very soft white or beige, and work the furniture in cream-colored tapestries and a darker wooden frame. The carpet can be the point where color is added with more force, such as black.

7) Deep Colors
-Dark grey
In small houses, colors related to depth, such as dark grey, can be used. The furniture can be white, although the best idea is to choose beige so that the room is not so cold.
Which among these colors do you prefer for your living room? Share your thoughts with us in the comments below!